Headlines for the Endurance.Net website
Tuesday, October 27, 2009
Posted by

The Equestrian Vagabond
at 7:47 AM
No comments:

Wednesday, October 7, 2009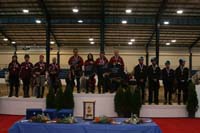 Kentucky Cup & North American Team Challenge
- The rain began just around the start of the 120 km ride at 7:30 AM - and didn't stop all day. Mid-40's and dumping rain most of the morning, then rain and wind, then light rain and wind, then mist and wind, more rain, more wind, and colder, dropping into the upper 30's. The condition of the course - 70% of it over mowed grass - got worse proportionally with the amount of rain: slick, with mud, that only got slicker and deeper as the day wore on.
...more
Posted by

The Equestrian Vagabond
at 9:02 AM
No comments:

Contributors