Bandit Springs:
Naomi Preston and Lee Pearce tie for first in 100 in 13:33.
---
Farzad Faryadi and Hot Desert Knight
finish the 2008 Vermont 100 in 12:16 to claim first place.
---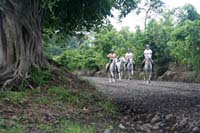 Diego Zamora, of Costa Rica, riding Samurai
finished first at the 2008 Mayan Adventure ride in Guatemala!